PATSTROY-92 COMPLETED RECONSTRUCTION OF A SECTION OF THE STREET NETWORK IN GODECH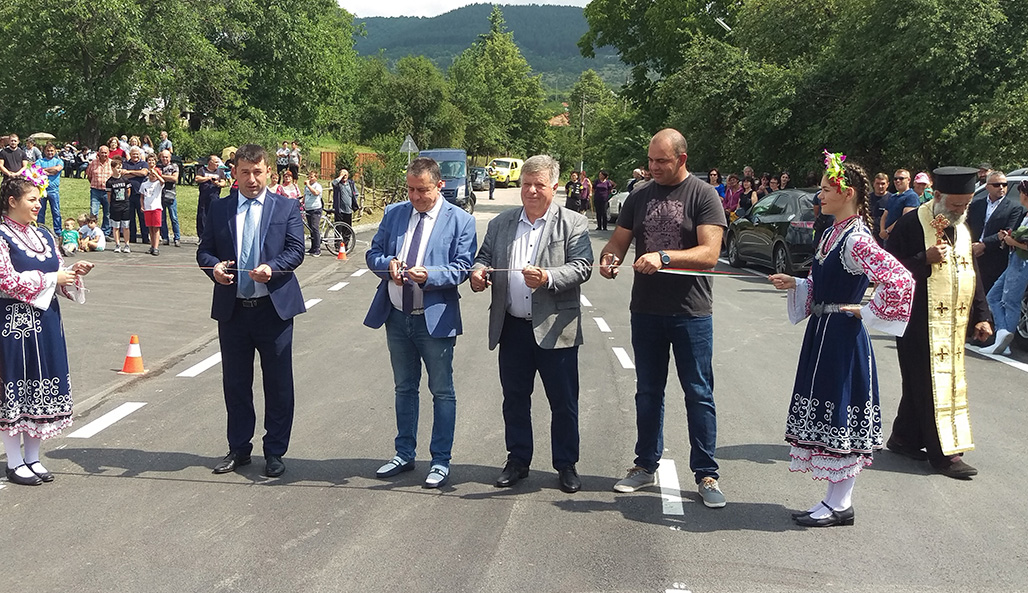 July 2020
On 27 July 2020, a great number of local citizens and official guests gathered on the central square in Staro Selo Quarter in the town of Godech, Sofia region. They were delighted to celebrate the successful reconstruction of a part of the town's street network, which was completed by PATSTROY-92 AD.
On the part of the hosts, the event was attended by Mr Radoslav Asenov - Mayor of Godech Municipality, the Chairman of the Municipal Council Ms Maria Vladimirova, and municipal councillors. In his welcoming speech to the attendees, the Mayor of Godech introduced the official guests M.Eng. Valentin Yovev - Deputy Minister of Regional Development and Public Works, Mr Nikolay Nikolov - Deputy Regional Governor of Sofia region, as well as other regional mayors and deputy mayors. Mr Radoslav Asenov extended his sincere gratitude to the contractors of the project. In addition, he expressed hope that the city will have the funds to implement successfully other similar projects. 'I hope that the state budget will continue to support Godech Municipality in the future, because when everyone sees a partner who spends money so responsibly, I think there is no reason for this process not to continue,' said Deputy Minister Valentin Yovev. Father Todor from the local St. Dimitar Church read a prayer for good health and consecration of the newly rehabilitated road section.
The official event ended with a ribbon cutting ceremony performed by Mr Radoslav Asenov, Deputy Minister Valentin Yovev, Mr Nikolay Nikolov and M.Eng. Angel Hadzhiev - Head of Construction Department at PATSTROY-92 AD.